First time heard the band:The Pretty Maids ep in 1983/1984.

First record bought:Not sure if it was the first ep or the single Waitin' For The Time I got first in 84 I guess.

Live in concert:1985,2006,2010,2011,2011,2012,2012,2012,2013,2013,2014,2014,2014,2015,2015,2016,2017
Members seen live in concert:Ronnie Atkins,Ken Hammer,Pete Collins,Alan Owen,Phil Moorhead,Alan Delong,Kenn Jackson,Allan Tschicaja,H.C. Roeder,Hal Patino,
Morten Sandager,Rene Shades,Chris Laney,Allan Sørensen.
Pretty Maids related members Live in concert:
Ronnie Atkins:2013,2016 (Avantasia)
Hal Patino:1990,2006,2012 (King Diamond),2011 (Snowy Shaw),2014 (Nordic Beast)
Chris Laney:2004 (Zan Clan), 2010 (Chris Laney)

Which members have I met:Ronnie Atkins,Ken Hammer,Allan Tschicaja,Rene Shades,Morten Sandager

Special moments:
* Opening for Saxon in 1985. This was my first hardrock concert and what a night it was :)
* Being part of bringing the band to Varberg the first time in 2011.
* Working in the team around their gigs in Varberg 2012,2013 & 2014. Great nights & parities ;)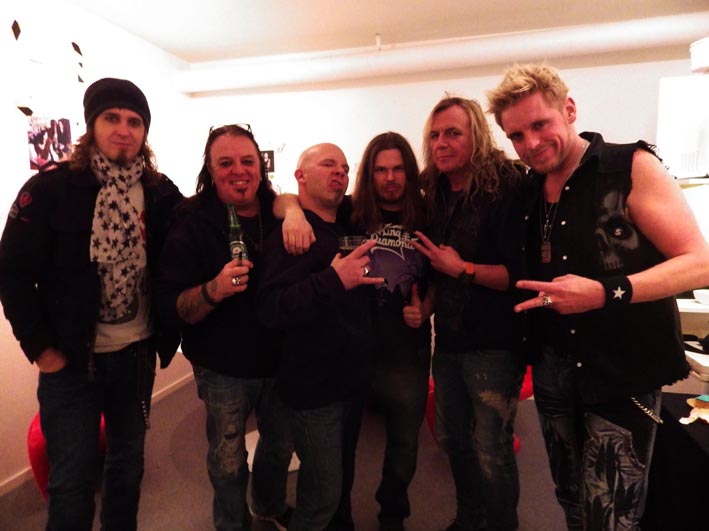 Backstage in Varberg 2013

The albums & songs:
PRETTY MAIDS-Favourite track:Fantasy
RED,HOT AND HEAVY-Favourite track:Back To Back
FUTURE WORLD-Favourite track:Yellow Rain
JUMP THE GUN-Favourite track:Savage Heart
IN SANTA'S CLAWS-Favourite track:A Merry Jingle
SIN-DECADE-Favourite track:Please Don't Leave Me
STRIPPED-Favourite track:'39
SCREAM-Favourite track:Walk Away
SPOOKED-Favourite track:Spooked
ANYTHING WORTH DOING IS WORTH OVERDOING-Favourite track:When The Angels Cry
CARPE DIEM-Favourite track:Wouldn't Miss You
PLANET PANIC-Favourite track:Virtual Brutality
WAKE UP TO THE REAL WORLD-Favourite track:Another Shot Of Your Love
PANDEMONIUM-Favourite track:Cielo Drive
MOTHERLAND-Favourite track:Sad To See You Suffer
KINGMAKER-Favourite track:When God Took A Day Off

The Live & Compilation:
OFFSIDE-Favourite track:
SCREAMIN' LIVE-Favourite track:
THE BEST OF..BACK TO BACK-Favourite track:
FIRST CUTS AND THEN SOME-Favourite track:
ALIVE AT LEAST-Favourite track:
IT COMES ALIVE-MAID IN SWITZERLAND-Favourite track:
LOUDER THAN EVER-Favourite track:Nuclear Boomerang


The band collection:(updated Jan 15th 2018)
Albums (Vinyl & Cd): 27
Singles (Vinyl & Cd): 14
Videos (Vhs & Dvd): 0 (not inc the cd's with bonus dvd)
Other specials: