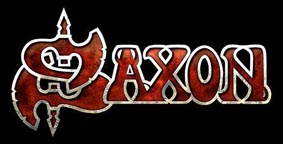 First time heard the band:1980. Not sure if it was the Saxon,Wheels Of Steel or the Monsters Of Rock 1980 (Saxon had 1 song on the album) album I heard the band first.

First record bought:Back On The Streets single I think it was. Saxon was a band that my brother bought the albums of while we both lived at home.

Live in concert:1985,2004,2005,2008,2011,2011,2013,2015,2016,2017
Members seen live in concert:Biff Byford,Paul Quinn,Graham Oliver,Steve Dawson,Nigel Glockler,Doug Scarratt,Tim Carter,Jörg Michael.
Saxon related members Live in concert:
Fritz Randow:1989 (Victory)

Which members have I met:(no one so far)

Special moments:
* My first real rock concert was Saxon in Gothenburg 1985 on the Innocence Is No Excuse tour.

The albums & songs:
SAXON-Favourite track:Backs To The Wall
WHEELS OF STEEL-Favourite track:747 (Strangers In The Night)
STRONG ARM OF THE LAW-Favourite track:Strong Arm Of The Law
DENIM AND LEATHER-Favourite track:Princess Of The Night
POWER AND THE GLORY-Favourite track:Power And The Glory
CRUSADER-Favourite track:Crusader
INNOCENCE IS NO EXCUSE-Favourite track:Broken Heroes
ROCK THE NATIONS-Favourite track:Waiting For The Night
DESTINY-Favourite track:I Can't Wait Anymore
SOLID BALL OF ROCK-Favourite track:Requiem (We Will Remember)
FOREVER FREE-Favourite track:Forever Free
DOGS OF WAR-Favourite track:Dogs Of War
UNLEASH THE BEAST-Favourite track:Unleash The Beast
METALHEAD-Favourite track:Are We Travellers In Time
KILLING GROUND-Favourite track:Killing Ground
LIONHEART-Favourite track:Lionheart
THE INNER SANCTUM-Favourite track:State Of Grace
INTO THE LABYRINTH-Favourite track:Battallions Of Steel
CALL TO ARMS-Favourite track:Hammer Of The Gods
SACRIFICE-Favourite track:Sacrifice
BATTERING RAM-Favourite track:Battering Ram

The Live & Compilation:
THE EAGLE HAS LANDED-Favourite track:
ROCK AND ROLL GYPSIES-Favourite track:
THE EAGLE HAS LANDED II-Favourite track:
THE EAGLE HAS LANDED III-Favourite track:
UNPLUGGED AND STRUNG UP-Favourite track:
ST. GEORGE'S DAY-LIVE IN MANCHESTER-Favourite track:


The band collection:(updated Jan 15th 2018)
Albums (Vinyl & Cd): 32
Singles (Vinyl & Cd): 18
Videos (Vhs & Dvd): 5 (not inc the cd's with bonus dvd)
Other specials: