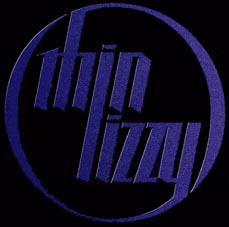 First time heard the band:I'm guessing it was around 76-78. And I think the album was Jailbreak.

First record bought:I think it was the single for Hollywood in 1982.

Live in concert:1999,2007,2011
Members seen live in concert:Scott Gorham,John Sykes,Darren Wharton,Brian Downey,Marco Mendoza,Tommy Aldridge,Ricky Warwick,Richard Fortus.
Thin Lizzy related members Live in concert:
Eric Bell:1996 (Eric Bell Band)
Brian Robertson:1999 (Lotus (guest 5 songs), 1999 (Dare (guest 3 songs),2008 (Dare (guest on 2 songs)
Scott Gorham: 2013,2015 (Black Star Riders), 2013 (Europe 1 song)
Gary Moore:1987,1989,2010 (Gary Moore)
Darren Wharton:1989,1999,2008,2015,2017 (Dare)
Marco Mendoza:2003,2004 (Whitesnake),2005 (Soul Sirkus),2013 (Black Star Riders)
Damon Johnson:2005,2006,2009 (Alice Cooper), 2013,2015 (Black Star Riders)
Tommy Aldridge:1990,2003,2004,2006 (Whitesnake)
Ricky Warwick:1991,1992,1993 (The Almighty), 2013,2015 (Black Star Riders)

Which members have I met:Brian Robertson,Darren Wharton,John Sykes,Tommy Aldridge

Special moments:
*Getting a tattoo of one of the best albums ever made. A tribute to Thin Lizzy & one of the best songwriters ever Phil Lynott.



The albums & songs:
THIN LIZZY-Favourite track:Things Ain't Working Out Down At The Farm
SHADES OF A BLUE ORPHANGE-Favourite track:Sarah
VAGABONDS OF THE WESTERN WORLD-Favourite track:The Rocker
NIGHT LIFE-Favourite track:Still In Love With You
FIGHTING-Favourite track:Wild One
JAILBREAK-Favourite track:The Boys Are Back In Town
JOHNNY THE FOX-Favourite track:Massacre
BAD REPUTATION-Favourite track:Bad Reputation
BLACK ROSE-Favourite track:Waiting For An Alibi
CHINATOWN-Favourite track:Killer On The Loose
RENEGADE-Favourite track:Hollywood
THUNDER AND LIGHTNING-Favourite track:Cold Sweat
The Live & Compilation:
LIVE AND DANGEROUS-Favourite track:
LIFE/LIVE-Favourite track:
DEDICATION-Favourite track:Dedication
WILD ONE-Favourite track:
ONE NIGHT ONLY-Favourite track:
THE BOYS ARE BACK IN TOWN-Favourite track:
VAGABONDS,KINGS,WARRIORS,ANGELS-Favourite track:
LIVE IN LONDON 2011-Favourite track:
HIGH VOLTAGE-LIVE 2011-Favourite track:


The band collection:(updated Jan 15th 2018)
Albums (Vinyl & Cd): 27
Singles (Vinyl & Cd): 17
Videos (Vhs & Dvd): 6 (not inc the cd's with bonus dvd)
Other specials: