Promotion for Pandemonium album 2011
Ken Hammer of Pretty Maids Interview October 8th 2011,Societen,Varberg,Sweden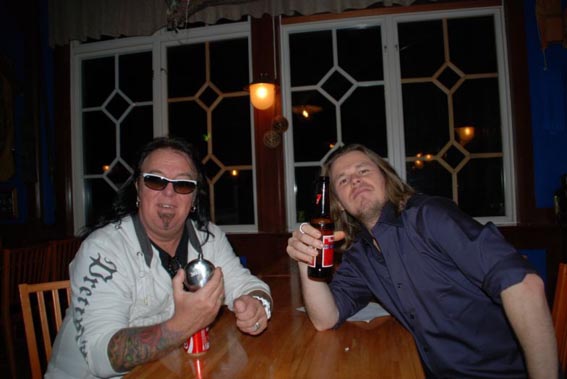 The gig on October 1st in Pratteln (Switzerland) & Z7 konzertfabrik was recorded for a forthcoming dvd.
How come you picked that location? And how did the show go?
We were supposed to do it in Tivoli,Copenhagen in April bur for various reasons it didn't happen.We had just got a new bassplayer and didn't think it was fair to him to do it.
So we picked Pratteln becasue it's a great venue.Great atmosfear,sound and people there too.Big stage as well.It's cool.
The show went great with lots of people. I haven't seen any of the footage yet but I'm sure it's good.
The set included 24 songs. Was it more difficult to pick songs for that show than any other show?
It's always difficult, cos when you've done so many albums everybody wants to hear so many different songs.
We played for 2 ½ hours and we still didn't cover the whole area,so it's very difficult.But I think at that gig we pretty much covered what we've done.
You know there are some songs that we have to play,there are alot of songs that we want to play and then there are songs that people would like to hear.
So we tried to cover that as good as we could.
Will the dvd include all your promo videos and other bonus stuff like older live videos?
I have no idea yet.I don't think so but I'm not sure to be honest.Becasue we've had different record companies over the years.
Sony music have the rights to some of those videos so we have to look into that if that's the case.
Will anything from the Tivoli,Copenhagen (April 22nd 2011) gig be on the dvd?
No nothing at all.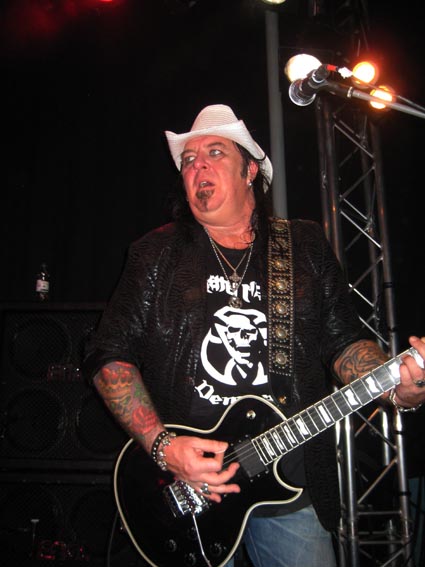 A year and a ½ ago you released your latest album Pandemonium. How high do you rank the album today?
One of our best.If not our best I don't know.It's one of my favorites for sure.
It's the album I've listened to the most of all our albums since it was done.Normally I never listen to our albums afterwards.
This one I've listened to alot cos it sounds good and have lots of good songs on it.
Is there any Pretty Maids songs you feel you will never play live again, if it was ever played live?
I don't know.I can't really remember anyone.Maybe that's because I can't remember all our songs.
Me & Ronnie have discussions about songs for the set all of the time.We compromise alot ;)
And we listen alot to what the fans wants to hear too.Some of them are really far out but some of them are really good.
So we thinks it's great to get the fans involved with what songs to play live.
Some of the songs that we brought back in the set for the dvd shoot like Lethal Heroes,Destination Paradise & Spooked were requested by the fans.
And you know there are some songs that are hard for Ronnie to sing these days as well.
A very important thing to think of. Of course we try to avoid them so that he can last a little longer.
What song is the most fun to play live?
I don't know. Some songs are fun to play,some songs are hard to play.The hard songs are not so fun to play.
Because you have to focus much more and not much room to enjoy yourself.You have to concentrate a little more on some songs.
So the most fun song to play live varies from show to show.
Like last year in Jönköping when we played Future World and Morten our keyboardplayer just didn't play it right...Now that was fun :)
The 30th anniversary of the band will it be celebrated in any special way this year?
I think the special event for that was the Pratteln gig with the dvd shoot.

Any plans to release a boxset featuring unreleased songs and different versions & live material?
That's yet another problem because we've had so many different record companies.
And to get them to work together is like mission fucking impossible.
I have & own the old demos for the Red,Hot & Heavy,Future World & Jump The Gun albums and then I think we stopped doing demos.
On the Pandimonium album there's a remix of It Comes At Night.Was there any more remixes made?
No that was just because we needed a bonus track for the Japanese market.
What's your favorite live dvd?
I don't really watch live dvd's that much but my all time favorite is Live And Dangerous.I'm a huge Thin Lizzy fan.
2012 marks the 25th anniversary of the Future World album. Will you do any shows like you did with the Red,Hot & Heavy album and play the whole record?
Yes we probably will do maybe 2-3 shows like that but we haven't really begun to talk about it yet.
Ever thought of making a concept album?
No we have never talked about that.Some people are good at it like Queensryche & King Diamond but I don't think that we could pull it off.
What would we write about-All we know is rock & beer ;)
Have you begun working on the next album yet?
Yes we have.Not far but a couple of ideas that we are working on. We'll get more into it after dvd and other things are done.
I'm rebuilding my studio in Karlshamn where some of the next album will be recorded.
Is there any producer you would like to work with?
John "Mutt" Lange is really good. I like him alot. Done great albums with Ac/Dc,Def Leppard & Bryan Adams and many more.
We have worked with Eddie Kramer awhile back big name but he was a disaster to work with so we fired him.
So you never really know until you meet the guy if it's the right one for you.
We were very happy with Roger Glover on Jump The Gun.It was the most fun we'ver had had doing an album.
We would love to work with him again but these days it's so hard to hire an expensive producer.
In the end it's all about the money.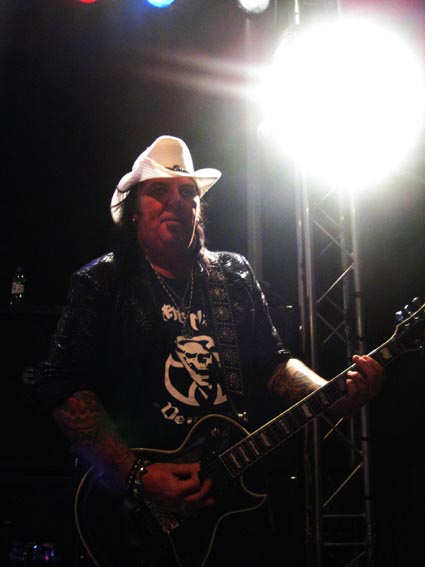 Who would be a dream guest on the next Pretty Maids album?
Shania Twain becasue she is beautiful.She doesn't have to sing just stand there ;)
Someone like Scott Gorham might be cool.
What are the plans for 2012 for the band?
We got the live dvd coming out in March/April.I think it will be a live cd too or a dvd+cd.
More shows next year too and work on the next album.
Interview by Andy Flash for Artrock webzine.