Promotion for Wake Up To The Real World album 2006
Ronnie Atkins of Pretty Maids Interview December 14th 2006,Amager Bio,Copenhagen,Denmark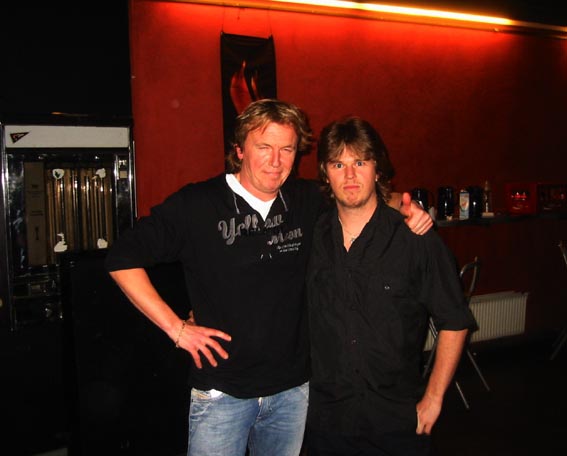 Congratulations to what's in my opinion are the album of the year.
Thank you, that pleases my heart to hear.
"Wake Up To The Real World"-How did you decide on the album title?
We had a drawing of the girl from the "Future World" cover .We wanted a title track and it was the best one.
In the Pretty Maids camp how does the writing process work?
Most of the songs are written just the two of us (Ronnie & Ken) with two acoustic guitars.
Some of the songs are written with the band in the rehearsal room. No computers or drum machines are used.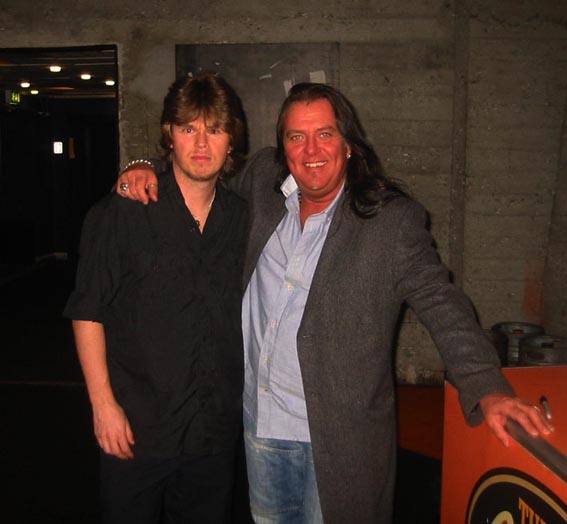 with Ken Hammer
How many songs did you write and how many did you record for the new album?
We did twelve. There's a song called "Beautiful Madness" that didn't make the album,
we didn't think it was strong enough. It might be a bonus track or b-side at some point.
Any singles to be released from "Wake Up To The Real World"?
We might put out the title track in Scandinavia. But we're still talking about it.
A lot of people seem to like it. Maybe not the most obvious one, in Denmark we normally release ballads.
For this album you have a new drummer Allan Tschicaja. What's the reason for the change and how did he land the gig?
Michael left cause he had a lot else going, not musically. And I think he was fed up waiting.
It's been 4 years and we've started and then stopped, started then stopped.
It's been because of disease, divorce and management. Life in general.
When Allan joined the band we started again and half the album was written two weeks before
we went into the studio. Allan played with Royal Hunt that opened for us on the "Planet Panic" tour.
We tried the guy from Hatred but Allan was the first choice.
And he also works socially as well, besides that he's a great drummer.
Who is the keyboard player on this tour?
The guy on the album (H.C. Roeder). But he will only play on these two Denmark gigs in December.
I don't know yet who will play on the European tour that starts in April/ May.
(The tour: We're working on that now)
Over the years you have recorded some great covers, the latest one being Deep Purple's "Perfect Strangers".
How and why did you decide on that one?
"Perfect Strangers" is on the album because the "Beautiful Madness" song didn't fit.
It was meant as a bonus track. We played it because we rehearsed "I Am The End" which is written
on a D tuned guitar. After we rehearsed it Ken one day just played the riff and I'm a big fan of Deep Purple as well. We've toured with Deep Purple, Ian Gillan have done vocals for us (A Merry Jingle)
and Roger Glover produced one of us albums (Jump The Gun)
What cover would you like to do on the next record?
If you ask me, No covers! Ken would love to do a cover album, which I don't.
People don't wanna hear Pretty maids doing cover songs. "Please Don't Leave Me" was a cover song,
but that is something else because a lot of people didn't know it was cover. That's the difference.
How did you end up doing "Please Don't Leave Me"
We had the single and we needed a ballad for the "Sin-Decade" album. That's why we did it.


(John Sykes single released in 1982)
What band or artist is the biggest influence on Pretty Maids?
Thin Lizzy, Deep Purple, Kiss, Led Zeppelin & Black Sabbath. I'm a big Sabbath fan.
I've always said that Ozzy was a great singer. He's not technically a brilliant singer,
but he's made great melodies and he's voice is very distinct.
So many people sound like Geoff Tate of Queensrÿche, you know that type of singers.
But I think Ozzy is very distinct and that's why I love him. I love the old Sabbath.
Also the New Wave Of British Heavy Metal had a big influence on us like Def Leppard, Iron Maiden
& Tygers Of Pan Tang.
What band/artist would you like to tour together with as a great package?
I would love to tour with Elvis, that would draw a lot of people :).
We might be going out with Dokken opening for us next year.
Something that fits musically really and Iron Maiden would have been good.
What is your favourite Pretty Maids album?
I'm in the fortunate position when I can say I don't think we've ever done a real bad album.
There's always albums you prefer to others. I think song writing wise "Spooked" is one of the best we've done
in recent years. I don't think the mix on "Spooked" is very good but the material is.
"Future World" & "Red, Hot And Heavy" are also good albums.


What is your favourite Pretty Maids song?
I think "Future World" is probably the best song we've ever done. I still feel ok when we play it live.
I think it has all the ingredients of a good hardrock song.


In the last couple of years there's been some hardrock success in the Eurovision Song Contest with the likes of Lordi, Wig Wam & The Poddles. Have you ever thought of entering the contest?
No! Music is not a competition. I consider it a joke.
Any plans to make another album in the same vein as the acoustic "Stripped" album?
Let me put is this way-You'll never know. But I think one of the mistakes we did was doing "Stripped".
It sold a lot of records in Denmark but in Japan where we just had major success with the "Sin-Decade" album
we dropped like that and it really took us a long time to work that up again. People get confused.
But we do what we feel like doing these days and I don't know what we'll do next
but it won't take another four years until the next album but it'll probably will be another hardrock/heavy metal album.
Are there any plans for a live DVD?
There's been plans for the last ten years, but we've never done it so far.
There is a plan but we haven't picked the place to record one.
All the promo videos will obvious be on it as well. We haven't done a promo video in a long time,
in fact the last one we did a lot of people don't know about.
We did it in Stockholm for a song from "Stripped" called "If It Ain't Gonna Change"
Are there any regrets in your almost 25 year history?
We've chosen the wrong management, sometimes the wrong record company people
but the biggest mistake we've ever did was that we turned down a three week tour with Whitesnake in America
in 1987 when the "Future World" album was released. CBS pushed the album, we made videos and
it was big focus on Scandinavian bands at the time. But we committed ourselves to do the Monsters Of Rock tour
in Europe with Deep Purple instead.
But these three weeks with Whitesnake could really have done it big time for us there.
What is the proudest moment so far in your music life?
One of the highlights was the year 87´. "Future World" was a big success and we played the Monsters Of Rock.
But I guess the proudest moment was the first time we had a record deal,
that's what I dreamt about my whole youth. Commercially it was 87´and 92´ with big success in Japan.
What is the plan for 2007?
We're gonna do some festivals next year. I think Sweden Rock Festival will be one of them. I hope so.
We talked about it a year ago but we didn't have a new album out then.
I know we have been approached by Sweden Rock,but the deal is not done yet.
There will be dates in Sweden next year.
Interview by Andy Flash for Artrock webzine.