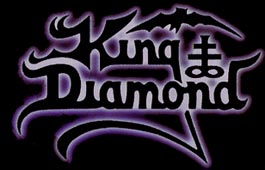 King Diamond:Vocals
Andy La Rocque:Guitar
Mike Wead:Guitar
Pontus Egberg:Bass
Matt Thompson:Drums
Livia Zita:Backing Vocals
Jody Cachia:Actress
THE SETLIST:(Give Me Your Soul...Please Tour)
1. THE CANDLE
2. SLEEPLESS NIGHTS
3. WELCOME HOME
4. NEVER ENDING HILL
5. INTRO:LET IT BE DONE
6. THE PUPPET MASTER
7. AT THE GRAVES
8. MEDLEY:
a. TEA
b. DREAMS
c. DIGGING GRAVES
d. A VISIT FROM THE DEAD

9. EVIL (mercyful fate)
10. COME TO THE SABBATH (mercyful fate)
11. SHAPES OF BLACK
12. EYE OF THE WITCH
13. THE FAMILY GHOST
14. BLACK HORSEMEN
15. CREMATION
16. OUTRO:INSANITY
Date:July 25th 2014
Place:Gröna Lund
City:Stockholm
Country:Sweden
Comments:Outdoors.First gig with Pontus Egberg (The Poodles) on bass. "Never Ending Hill" & "Medley" first time ever played live.