Sebastian Bach:Vocals
Dave "Snake" Sabo:Guitar
Scotti Hill:Guitar
Rachel Bolan:Bass & Vocals(On:Psycho Therapy)
Rob Affuso:Drums
THE SETLIST:(Slave To The Grind Tour)
1. IINTRO:SPEACH
2. SLAVE TO THE GRIND
3. BIG GUNS
4. HERE I AM
5. MAKIN' A MESS
6. 18 AND LIFE
7. "SMÅ GRODORNA"
8. PIECE OF ME
9. DRUMSOLO:ROB AFFUSO
10. SWEET LITTLE SISTER
11. PSYCHO THERAPY(ramones) (Featuring Guest:Steve Riley On Drums)
12. PSYCHO LOVE
13. TORNADO
14. MUDKICKER
15. QUICKSAND JESUS
16. GET THE FUCK OUT
17. MONKEY BUSINESS
18. RIOT ACT
19. THE THREAT
20. TRAIN KEPT A ROLLIN' (johnny burnette & his rock n roll trio)
(Featuring Guests From L.A. Guns:
Tracii Guns(Guitar),Kelly Nickels(Bass),Steve Riley(Drums)
21. I REMEMBER YOU
22. YOUTH GONE WILD
Date:December 7th 1991
Place:Lisebergshallen
City:Gothenburg
Country:Sweden
Comments:Review in Swedish newspaper GT 4/5.
"I Remember You" was dedicated to Eric Carr & Freddie Mercury who both had died on November 24th 1991.
Opening Act:L.A. Guns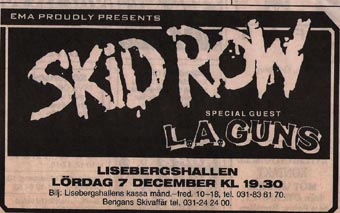 Poster taken from:
http://www.sweconpos.com/