(Interview with Stuart Docherty & Richard Gilchrist)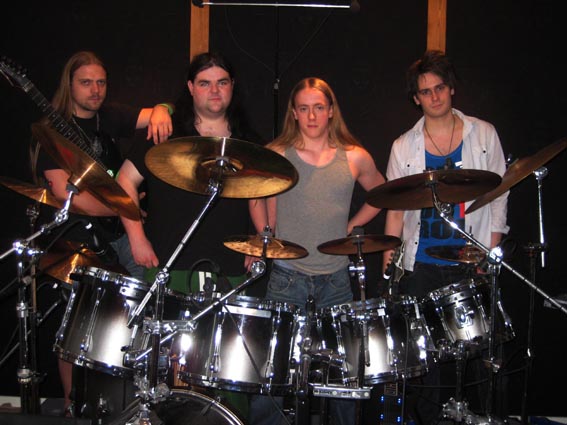 Stuart Docherty
,
Ricki Carnie
,
Richard Gilchrist, Fraser Edwards
Ricki Carnie:Vocals
Stuart Docherty:Guitars
Fraser Edwards:Guitars
Nick Blake:Bass
Richard Gilchrist:Drums

Band Info:

Formed in Aberdeen,Scotland 2004. (Current line up since 2008.)
Discography:
Moongate (EP) (2009)
Alchemy (EP) (2010)

Style: Extreme Power Metal

Influences: Iron Maiden,Stratovarius,Gamma Ray,Helloween,Blind Guardian,Hammerfall.

Website:(coming soon!)
MySpace:http://www.myspace.com/ascensionbanduk


The forthcoming album:
Album title: We have a couple of ideas but we haven't picked one yet. It will come to us after the album is done and we can listen to find the perfect one within the songs.

Tracks recorded & to be on the record: 10 (9 + 1 Japan bonus track)

Song writers: Main writers are Music:Stuart Docherty,Fraser Edwards. Lyrics:Ricki Carnie (50%) and the rest of the band the other ½.

Time in studio:

Time in Sonic Train Studios:Recorded August 2nd-August 23rd 2010.Mixed & Mastered in September.

Produced by: Andy La Rocque
Mixed by: Andy La Rocque
Mastered by: Andy La Rocque

Record label: Not yet.
Artwork/Album cover: Not yet but as soon as we have come up with the title we'll start working on the cover.

Release date: January 2011
Video: We will make a video but we haven't decided for which song yet.


Q&A:
What's the story behind the band name Ascension?
We were brainstorming for names and came up with nothing but rubbish. It's hard to come up with a good one word power metal band name.
But one night I (Stuart) watched tv and they were mentioning Ascension on some sci-fi show I think and we all thought that were a cool word and would be a good band name for us.

What are the lyrics about on the album?
We speak alot about destiny,fate & heroics. On this album there's also alot about space and the passage of time.
Personal but on a metaforical level.The duality of mankind,the Good & the Bad.
Which song from the new album are you looking forward to play live the most?
Some of the songs are a couple of years old and some are brand new.Good mix of songs.Alot of them haven't been played live yet.
But "The Avatar" will be a fun song to play.Fast and aggressive song.It's a 10-11 min epic track.
Any guests on the album?
Elias Holmlid from Dragonland makes a keyboardsolo on one track.

How come you picked the Sonic Train Studios to record the album?
There are some good studios in England that alot of power metal bands have used but we heard some of the albums that have been recorded here like Falconer,Dreamland and Hammerfall.
The sound was really good. Fresh and modern.And we really liked Andy's production. It was what we were looking for.And also great to come to Sweden :)

What's your all time favorite album?
Stuart:Stratovarius-Visions
Richard: Yngwie Malmsteen-Odyssey & Helloween-Keeper Of The Seven Keys II

What bands have you toured/played gigs with?
A small UK tour with Italian metal band Broken Melody (2009). Metal Fest in Birmingham September 2009 with bands like Blaze,Primal Fear & Dragonland.

And what bands would you like to tour with?
Dragonland & Gamma Ray.Yngwie Malmsteen would be cool as well.

Any plans to come and play in Sweden?
YES!!!!!!!!! Definitely.We have played alot in Scotland and we wanna play alot more in Europe especially in Sweden and Germany.We will definitely come and play in Gothenburg.

What is the best moment in this band so far?
The Sonic Train Studio recordings experience here in Sweden.Writing and recording the album have been so much fun the last 2 years.The Metal Fest and the tour with Broken Melody.

What are the plans for the rest of 2010?
Get the album done.Promotion for it.Send out to labels and radio stations.Play some live shows.Make a video.

Ascension comments on:

Sonic Train Studios:
Awsome.Very nice.And the second studio here saved us so we could get finished on time.A good setup that we can sleep here rather than paying for a hotel.
Andy La Rocque:
Legend.A very nice guy.Patient and have put up with us for 3 weeks :). He really understands what we want to do.Very easy to work with.Helpfull and hard working. Cares about the recordings.

Varberg:
We been out to check out the pretty Swedish women.Been to some bars as well :)
.....................................................
Andy Flash Report 20/8-2010