(Interview with Jim Aviva)

Jim Aviva- Vocals,Keyboards
Eric Rauti- Guitar,Bass (Dreamland)
Alexx Hedlund- Drums (Dreamland)

Band Info:


Formed in Russia.
Discography:
WALPURGISNIGHT (1999)
ROKUS TONALIS (2006)
NUTCRACKER IN FURY (2007)

Style: Progmetal/hardrock & metal in a mix with classical music.
Influences: Bach,Tchaikovsky,Yes,Queen,Led Zeppelin

Website: http://www.aviva2.narod.ru/
MySpace: http://www.myspace.com/avivaprog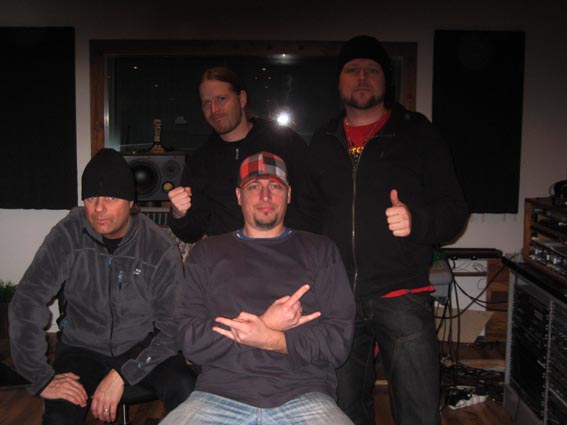 Andy,Stefan,Jim & Eric
The forthcoming album:
Album title: Red Room Blue

Tracks recorded & to be on the record: 8

Song writers: Jim Aviva.

Time in studio:

Time in Sonic Train Studios:January 16th-30th 2010 (Bass,drums & guitar). Keyboards & Vocals recorded in Russia. With mixing later in June this year.

Produced by: Andy La Rocque
Mixed by: Andy La Rocque
Mastered by: Andy La Rocque

Record label: Musea Records have released my other albums. Might be looking for another label for this album.
Artwork/Album cover: I have my own designer.She has done the other covers as well.

Release date: In the fall of 2010.
Video: It's a matter of money,so I don't know yet.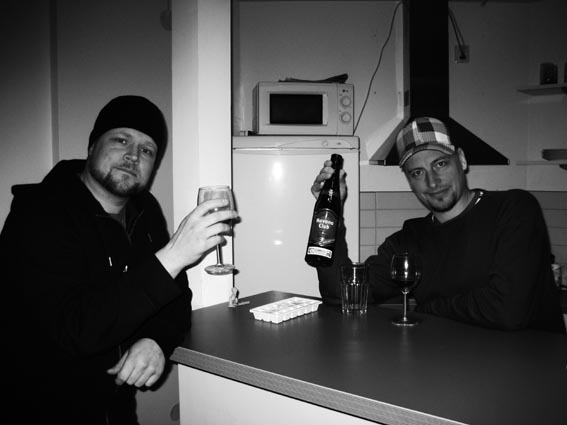 Eric & Jim

Q&A:
Is this a band,project or a solo record?
A band. I hope to play live with this band.This is our collaboration.
How come you choose to work with members of Dreamland on the record?
It's difficult to find the right muscians in Russia so I had the idea early on to find them in Sweden and I sure did.
I had heard Dreamland and I liked them very much.Eric & Alexx have done a fantastic job on this record.
What are the lyrics about on the album?
It's a concept album about a man,maybe about everyone of us.A man who wants to jump out from himself. His is inside of himself in the red room (Red=color of Russia).
Trying to find the way out and find the solution and the exitdoor to a new world.
Which song from the new album are you looking forward to play live the most?
It's my dream.A song called Tower Of Babel an 11 minute epic and also the opening track of the album.
I'm sure I also would open the shows with it. It got a great chorus too.
Any guests on the album?
Andy La Rocque does a solo on the title track Red Room Blue.
How come you picked the Sonic Train Studios to record the album?
My friend in Russia advised me to come here.I can't remember why,but he was right.
What are your favorite bands?
I have 3:Yes,Queen and Led Zeppelin. And I also listened alot to King Diamond in the 80's. As well as classical composers.
Favorite singer?
Freddie Mercury & Robert Plant.
Favorite keyboardplayer?
Keith Emerson,Rick Wakeman & Derek Sherinian.
What's your all time favorite album?
Yes:Relayer (1974).
What bands have you toured/played gigs with?
No gigs yet with Aviva Omnibus.Hopefully after the record have been released.
And what bands would you like to tour with?
Yes,Dream Theater,Rush,Symphony X,King Diamond,Pain Of Salvation,Opeth and Porcupine Tree.
Any plans to come and play in Sweden?
It will the first country that we will play in.I will be looking for a good promotor here in Sweden.
What is the best moment in this band so far?
I think every moment with the collaboration with these guys are great moments.
What are the plans for 2010?
Finish the new album with mixing in June.Release another instrumental album later this year as well.
Hopefully doing some gigs later this year.

Jim Aviva,Stefan.Andy Flash,Andy La Rocque & Eric Rauti
Aviva Omnibus comments on:

Sonic Train Studios:
Very comfortable studio. I feel like home :) .
Andy La Rocque:
Polite and kind.Creates a good atmosphere and brilliant sounds.

Varberg:
A great,small and quiet city.I've been to the castle and other places and I will see more in June when I return.
.....................................................
Andy Flash Report 27/1-2010