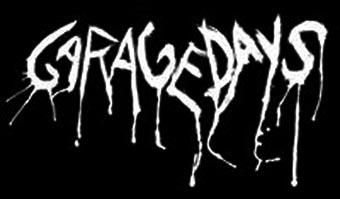 (Interview with Matthias Mai,Dominik Eder,Marco Kern och Rene Auer)


Marco Kern- Vocals & Guitar
Rene Auer- Guitar
Dominik Eder - Bass
Matthias Mai- Drums

Band Info:
Formed in Rattenberg,Austria 2005
Discography:
Sight Of The Blind (2010)
Leather & Spikes (2008) (Demo)
Wild And Dangerous (2007) (Demo)

Style: Metal

Influences: 80's metal
Website: http://www.garagedays.at/
MySpace: http://www.myspace.com/garagedaysmetal
The forthcoming album:
Album title: Dark And Cold

Tracks recorded & to be on the record: 10

Song writers: Marco Kern

Time in studio:

Time in Sonic Train Studios: Mix and Mastering October 25-28th 2010. Tracks recorded in rehearsal room 2010.

Produced by: Andy La Rocque & Garagedays
Mixed by: Andy La Rocque
Mastered by: Andy La Rocque

Record label: Not yet.Searching for a good deal.
Artwork/Album cover: It's in the works at the moment.

Release date: December 2010
Video: We have a made a video for an older track but it's not finished yet.If we got money we might make one for a song from this album.
Q&A:

What's the story behind the band name Garagedays?
We have our rehearsal in a garage so it's a fitting band name.

What are the lyrics about on the album?
About life and how it can fuck you in the ass.
One song is called "Father" that is about a ten year old girl who got raped by her father.A very dark song.
Which song from the new album are you looking forward to play live the most?
"Last Breath" and "Piece Of Shit". Both are great kickass rockers.

Any guests on the album?
No guests on the album.

How come you picked the Sonic Train Studios to mix the album?
I got in contact with Andy last year and he had good rates for mixing and mastering new young bands.

What's your all time favorite album?
Marco Kern -Metallica:Metallica
Rene Auer -W.A.S.P.:W.A.S.P.
Dominik Eder-Motörhead:Bastards
Matthias Mai -W.A.S.P.:W.A.S.P.

What bands have you toured/played gigs with?
Witchburner (German thrash band)

And what bands would you like to tour with?
Motörhead,Metallica,Black Sabbath,Saxon,Judas Priest,King Diamond,W.A.S.P.

Any plans to come and play in Sweden?
We really hope so.That would be great.Sweden Rock Festival would be fantastic.

What is the best moment in this band so far?
Our demo got a great review in Metal Hammer magazine a couple of years ago and we got 9.8 / 10 in an American metal magazine Metal Bite as well.
What are the plans for the rest of 2010?
Finish the album.More gigs.Get a record deal.

Garagedays comments:
Sonic Train Studios:
It's great,very cool. Better beds here than at home :)

Andy La Rocque:
He's been very good to us.Very nice and such a pro.
Varberg:
We have been around the town a little.Lots of stores and it's a small and nice town.Very friendly people here.Expensive beer thou...


Andy Flash Report 27/10-2010