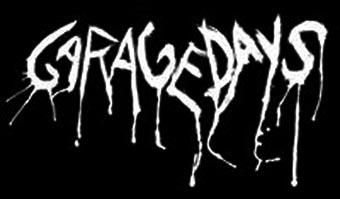 (Interview with Marco Kern,Rene Auer,Matthias Mai & Dominik Eder)


Marco Kern- Vocals & Guitar
Rene Auer- Guitar
Dominik Eder - Bass
Matthias Mai- Drums

Band Info:
Formed in Rattenberg,Austria 2005
Discography:
Dark And Cold (2011)
Sight Of The Blind (2010)
Leather & Spikes (2008) (Demo)
Wild And Dangerous (2007) (Demo)

Style: Metal

Influences: 80's metal
Website: http://www.garagedays.at/
MySpace: http://www.myspace.com/garagedaysmetal
The forthcoming album:
Album title: Passion Of Dirt

Tracks recorded & to be on the record: 10

Song writers: Music:Garagedays . Lyrics:Marco Kern

Time in studio:

Time in Sonic Train Studios: Mix and Mastering December 8-14th 2012. Tracks recorded in rehearsal room 2012.Vocals recorded by Ralf Scheepers in his studio.Drums recorded in a studio in Austria.

Produced by: Ralf Scheepers & Garagedays
Mixed by: Andy La Rocque
Mastered by: Andy La Rocque

Record label: Looking for a label.
Artwork/Album cover: Done by Sledgehammer (done covers for Primal Fear & Sabaton among others).

Release date: Hopefully Feb 2012.
Video: Yes but we haven't decided on which track yet.
Q&A:

How was the respons on your last album "Dark And Cold"?
Really good. Great reviews all over the world. 7,8,9 out of 10 all over so we're very happy with that :)

What's the story behind the album titel "Passion Of Dirt"?
It kinda felt like it suited good for an album titel and it sums up life in a cool way.
What is the biggest difference between "Passion Of Dirt" and "Dark And Cold" ?
Better songs,better recordings and new guitars.
What are the lyrics about on the album?
Life.
Which song from the new album are you looking forward to play live the most?
All the new songs.We've tried a couple out already and they really worked out well live.

Any guests on the album?
Ralf Scheepers (Primal Fear) backing vocals on two tracks.

How come you picked the Sonic Train Studios to mix/master the album?
Andy is great and we were very happy with "Dark And Cold" and we love it here at Sonic Train and Varberg.

What was the latest cd you bought?
Marco Kern -Heaven & Hell:The Devil You Know
Rene Auer -The Scream:Let It Scream
Dominik Eder-ZZ Top:La Futura
Matthias Mai -John Corabi:Unplugged
What is the best concert you've been to?
Marco Kern -W.A.S.P.,Germany 2010
Rene Auer -Mötley Crue/Slash,Germany 2012
Dominik Eder-Judas Priest,Germany 2004
Matthias Mai -Kamchatka,Austria 2012

What bands did you tour with on the "Dark And Cold" tour?
Master, Southwicked & Destroy The Opposition.

And what bands would you like to tour with?
Motörhead,King Diamond & Primal Fear.

Sweden Rock Festival,Wacken or Download.Which festival would you like to play the most?
Sweden Rock Festival!!!!!

What was the highlight of 2012?
Recording vocals with Ralf Scheepers and being back here at Sonic Train Studios with Andy La Rocque.
What are the plans for 2013?
Gigs,Videos & promoting "Passion Of Dirt".

Garagedays comments:
Sonic Train Studios:
Love it here.Feels like coming home.

Andy La Rocque:
Very cool and great guy in every possible way.
Varberg:
Been around a little more this time around and we like it very much.


Andy Flash Report 12/12-2012