(Interview with Steven Rice)
Andy La Rocque & Steven Rice
Josh Gibson: Vocals
Steven Rice: Guitar (ex Imagika)
Roberto Proietti:Guitar (ex Eldritch)
Danyael Williams: Bass (ex Dark Angel)
Wayne DeVecchi: Drums (ex Imagika)

Band Info:
Formed in San Jose ,USA 2010.
Discography:
(Debut)

Style: Metal/Thrash
Influences: Iron Maiden,Judas Priest,Black Sabbath,Forbidden,Testament,King Diamond
Website: http://www.reverbnation.com/killritual
MySpace: http://www.myspace.com/killritual

The forthcoming album:
Album title: The Serpentine Rituals

Tracks recorded & to be on the record: 10
'The Serpentine Ritual'
'Torn Down'
'Time To Kill'
'Ambush'
'Old School Thrasher'
'Coat Of Blood'
'Cold Hard Floor'
'Law Of The Land'
'The Day The World Dies'
'Prisoner Of The Flesh'
Song writers: Steve (music) & Josh (lyrics).

Time in studio:

Time in Sonic Train Studios: October 2011.
Recorded in Fang Studios,San Mateo,California & Steven Rice homestudio in San Jose during 2010/2011.

Produced by: Steven Rice and Andy La Rocque
Mixed by: Andy La Rocque
Mastered by: Andy La Rocque

Record label: We're gonna start looking for one once the album is done.To have a finished record to shop around the labels with.
Artwork/Album cover: Jobert Mello will do the album cover who also have done our logo and covers for Sabaton among others.

Release date: Hoping for Spring 2012
Video: Yes we have talked about that.Our bassplayer also does some acting on the side.So he have some connectings in L.A. so we hope we will find someone to make a video for us.


Q&A:
After 7 albums and 17 years Imagika called it quits in 2010.What was the reason?
A personal conflict between me and our vocalist.I think his ego and wanting to do his own thing under a his own name kinda took it's toll in the end.
So there was a little drama and I just decicded that maybe it was time for me to move on to something new.
And how did Kill Ritual get started?
When Imagika split up I already had a couple of new songs so me and the drummer from Imagika Wayne DeVecchi decide to continue to work together.
He didn't play on the last Imagika record but he did the tour.
4 of the songs on the album are songs that we had demoed before we had the other guys in the band.
While making the demos we kinda let people know that we were looking for people to the band.
Danyael Williams had already contacted us about Imagika continuing with new members.
But I already felt that we wouldn't find the right vocalist for Imagika so it was better to start something new.
And Danyael was asked if he was interested in Kill Ritual instead and he sure was.
Roberto Proietti was in a band called Eldritch and had moved over to the States a couple of years before and he answered on an add we had out.
And the singer Josh Gibson is from the Bay area too but he's been more into the kind of alternative and grunge stuff before.
And he now he really wanted to give metal a go.
He sent us some stuff but the material wasn't really what we were into it was more the L.A. cockrock kinda stuff but after listening closer to just his voice me and Wayne
said he's got a great voice and we should try him out and he has done an amazing job on the record.
What's the story behind the band name Kill Ritual?
We were just looking for a name and started throwing words out there and Kill Ritual was something that everybody really liked.
And we did some research for it and found out that it was a kind of an hunting tradition.So we thought that was kinda cool too.

What are the lyrics about on the album?
Some different stuff. We have this one called "Old School Trasher" about being in a band and stuff.A little tongue n cheek and funny but it's still a cool metal song.
"Ambush" is about a guy on patrol during war. So it's kinda varied lyrics on the album.
There's no songs on the album about women and stuff like that.I think David Coverdale got that covered really well and no one does it better anyway :)
Which song from the new album are you looking forward to play live the most?
We haven't done any shows yet cause we wanted to do this thing different.
To have an album done before we go out and make shows but I think "Torn Down" will become a live favorite.
"Old School Trasher" it's a straight forward fast song that I think will go great live.
I like the title track as well and we'll probably open with that one.
Will you include Imagika in the Kill Ritual set?
No.I think that would be a little weird because that the other members have played with Dark Angel & Eldritch and other bands.
Then we kinda have to play their songs as well. So it's better just to focus on the Kill Ritual songs.
Any guests on the album?
Andy La Rocque guitarsolo on:Coat Of Blood. It's an epic track around 8 minutes long.

How come you picked the Sonic Train Studios to mix & master the album?
We have worked together on a couple of records now and we work really well together.
And I really love that he doesn't make all the bands sound the same like some producers do.

What's your all time favorite albums?
Judas Priest:Unleashed In The East & Iron Maiden:Killers

What bands would you like to tour with?
King Diamond and Testament would be cool.Judas Priest would be amazing.

Any plans to come and play in Sweden?
That would be great.Maybe open for a cool band or doing a festival or something.

What are the plans for the rest of 2011 and 2012?
2011-Start shopping the album to some good record companies. Maybe doing 1-2 or shows and maybe a video too.
2012- Album release and more shows and tours,hopefully lots of them. Festivals in Europe maybe too.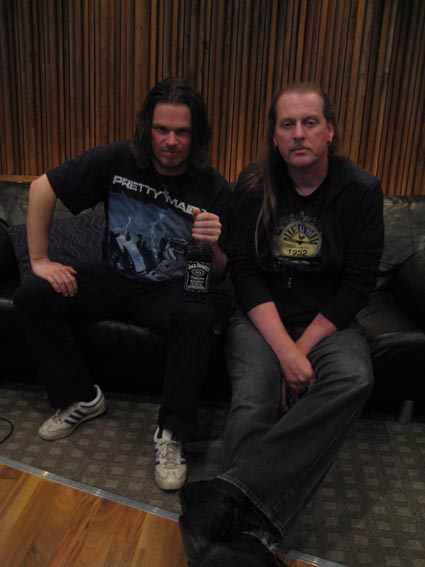 Andy Flash & Steven Rice
Kill Ritual comments on:

Sonic Train Studios:
It's great here.Me and wife stays here while working so we really like it. And it sounds great too :)
Andy La Rocque:
He's an easy guy to work and get along with.And I have a huge respect for him as a muscian as well being a big fan of King Diamond.

Varberg:
Been here now a couple of times and I really like it alot.And it's close to Gothenburg that I really like.
Looking forward to seeing the Pretty Maids here tonight too:)

.....................................................
Andy Flash Report 8/10-2011