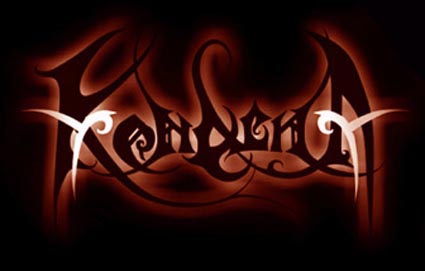 (Interview with Victor,Guti,Vity & Luismi)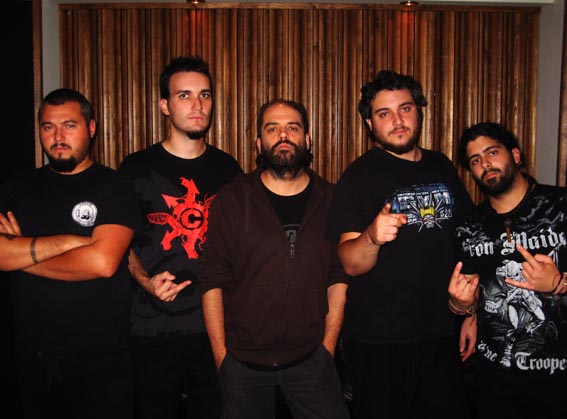 Victor
,
Guti
,
Raul Rodrigo,Vity & Luismi
Guti:Vocals
Raul Rodrigo:Guitars
Luismi:Guitars
Victor:Bass
Vity:Drums

Band Info:

Formed in Spain 2000
Discography:
Método de Equilíbrio (EP) 2005
Lírica Apocalíptica - Ira (EP) 2008

Style: Metal (Trash,Prog,Death)

Influences: Death,Pantera,Strapping Young Lad,Sepultura,In Flames.

Website:-
MySpace:http://www.myspace.com/kondena


The forthcoming album:
Album title: Primitiva Devastacion

Tracks recorded & to be on the record: 10 + intro

Song writers: Victor

Time in studio:

Time in Sonic Train Studios:Recorded August 31st-September 16th 2010.

Produced by: Andy La Rocque
Mixed by: Andy La Rocque
Mastered by: Andy La Rocque

Record label: Searching for the right one.
Artwork/Album cover: A friend of the band make it.

Release date: Nov 2010-Jan 2011
Video: "Al Salir Del Infierno"

Q&A:
What's the story behind the band name Kondena?
It means Sentence.

What are the lyrics about on the album?
Troubles,Experiences,Crimes & Killers.Hard times in life. "Al Salir Del Infierno" is about youthanasia.
Any plans to make an album in English?
Maybe the next album will be in English.
Which song from the new album are you looking forward to play live the most?
"Al Salir Del Infierno"
Any guests on the album?
Andy La Rocque does a guitarsolo on one track.

How come you picked the Sonic Train Studios to record the album?
Andy is one of our favorite guitarplayers and he is a very good producer as well.
We have listened to alot of other albums he has done and we like them very much.And we sure are big King Diamond fans as well.

What's your all time favorite album?
Guti:Pantera-Far Beyond Driven
Raul Rodrigo:Megadeth-So Far So Good So What
Luismi:Iron Maiden-Powerslave
Victor:Pantera-Far Beyond Driven
Vity:Manowar-Louder Than Hell

What bands have you toured/played gigs with?
Rockstar Festival in Spain 2006 featuring Gamma Ray.

And what bands would you like to tour with?
Strapping Young Lad,Iron Maiden,In Flames,Manowar.

Any plans to come and play in Sweden?
Hopefully to play at Sweden Rock Festival someday.

What is the best moment in this band so far?
Recording the album here at Sonic Train Studios.
What are the plans for the rest of 2010?
Gigs,Finding a record label.

Kondena comments on:

Sonic Train Studios:
Very good.We have had a great time here working with Andy.
Andy La Rocque:
He's a pro.Brings out the best of us.Makes us work hard for a great result.And he like METAL :)

Varberg:
Small town but it's very nice.We've been out walking and also checking out some bars and the beautiful girls :)
.....................................................
Andy Flash Report 10/9-2010