(Interview with Nick Touzov)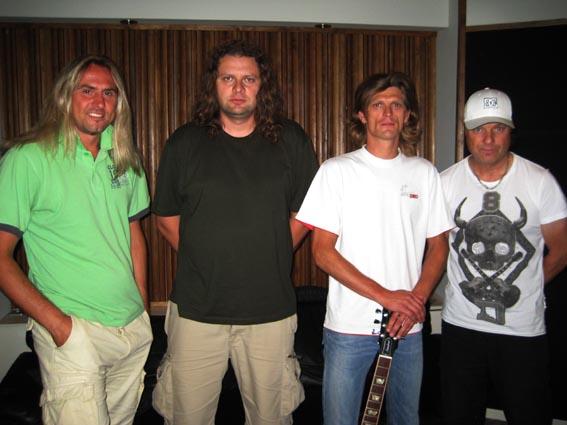 Oleg Zhilyakov,Nick Touzov,Paul Ginkin & Andy La Rocque
Nick Touzov:Vocals & Guitar
Paul Ginkin:Guitars,Bass
Sergey Olkhovsky:Bass
Sergey Bondarenko:Bass
Andrey Ishchenko:Drums

Band Info:

Formed in Obinsk,Russia 1992
Discography:
In Mourning-1995
In Peace-1998
Living In A Daymare-2004

Style: Death Metal

Influences: King Diamond,Death,Black Sabbath,Slayer,Testament.

Website: http://melissa-russia.com/
MySpace: http://www.myspace.com/melissarussia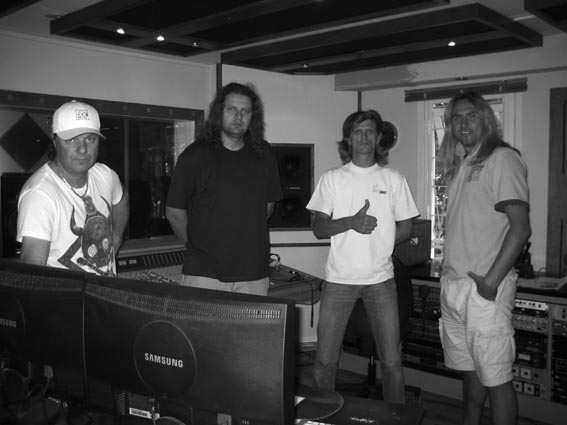 Andy,Nick,Paul & Oleg
The forthcoming album:
Album title: In The Face Of Death

Tracks recorded & to be on the record: 10 (inc:1 instrumental)

Song writers: Nick & Paul

Time in studio:

Time in Sonic Train Studios:Recorded & Mixed & July 25th-August 7th 2011. Mastering September 2011. Paul plays bass on 3 tracks other bass parts were recorded in Russia & USA.

Produced by: Andy La Rocque
Mixed by: Andy La Rocque
Mastered by: Andy La Rocque

Record label: We're in talks with 2 different Russian labels at the moment for the Russian release and we will search for a label for the rest of the world for the album later.
Artwork/Album cover: The cover is done by Waldemar Smerdulak.

Release date: October 2011 in Russia.
Video: Hopefully we will make a video but we will see later about it. Maybe "Vampire" would be a good song to make a video for.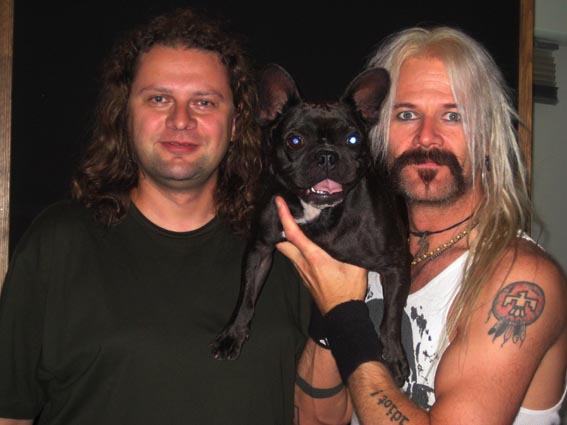 Nick,Mini Shaw & Snowy Shaw

Q&A:

What's the story behind the band name Melissa?
Like you already guessed it's taken from the Mercyful Fate album Melissa.We like the name and it sounds & means the same in english and in russian.

What are the lyrics about on the album?
Mostly dark lyrics.Not depressing but maybe some are a bit angry. "I Hate You" is not about a person that I hate it's more I hate you,you hate me too.
Sometimes I have too much lyrics to fit into a song.Sometimes it's hard to find the inspiration.But now it's all good :)
Which song from the new album are you looking forward to play live the most?
Burning & I Hate You are great live songs. We will play alot of this album live on the next tour.
Any guests on the album?
Andy La Rocque guitarsolos on:Vampire & I Can Live Today
Snowy Shaw drums on:Burning & I Hate You
Catharsis singer-Oleg Zhilyakov vocals on:Vampire

How come you picked the Sonic Train Studios to record the album?
I've been a fan of King Diamond since I was a kid and our drummer Andrey Ishchenko have recorded with Andy before in a band called Hieronymus Bosch.
They recorded the album "Equivoke" in Sonic Train Studios in 2007.
I remember listening to the album and was very surprised how good it sounded for being recorded as I thought in Russia
and then checking the booklet to read Varberg ,Sonic Train Studios & Andy La Rocque then I wasn't so surprised anymore ;).
So the choice was not really that hard to pick which studio to record in.
And one cool thing now recording the album was that I didn't bring an acoustic guitar with me from Russia and asked Andy if I could borrow one from him for the acoustic parts on our album.
He let me use the acoustic guitar that he used on the Conspiracy tour and is in the Sleepless Nights video...
So add that to having both Andy & Snowy guesting our album, that's just beyond amazing!

What's your all time favorite album?
King Diamond:The Eye
Favorite guitarplayers?
Steve Vai,Joe Satriani & Andy La Rocque

What bands have you toured/played gigs with?
Catharsis tour and a gig in Moscow opening for Carcass 2009.

And what bands would you like to tour with?
King Diamond!!!!!!!!!

Any plans to come and play in Sweden?
Hopefully coming here to do some summer festivals or getting a good opening act slot.

What is the best moment in this band so far?
Now making this album in Sonic Train Studios with Andy & the Moscow gig with Carcass.
What are the plans for the rest of 2011?
Releasing the album in Russia,Finding a label for Europe and rest of the world as well and hopefully doing some shows in the fall too.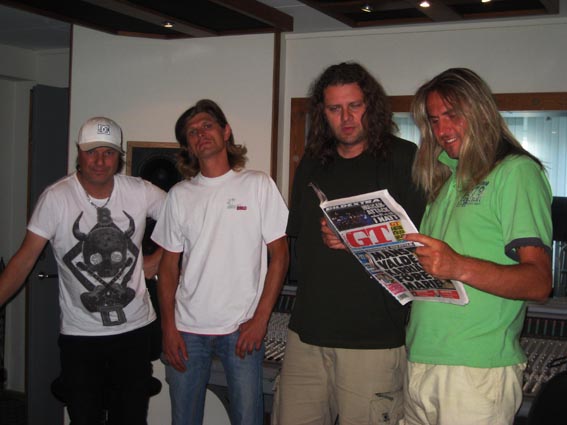 Andy,Paul,Nick & Oleg
Melissa comments on:

Sonic Train Studios:
Perfect in every possible way.We've felt so welcome here.

Andy La Rocque:
Totally professional.He helps and push us all the way.Almost like a member of the band.He's been taking very good care of us.

Varberg:
We've been around town and checking it out.Very nice city.Reminds me of when I lived in Austria a bit.
I hope to go and see the fortress too before we leave or maybe when I come back in September for the mastering.
.....................................................
Andy Flash Report 4/8-2011