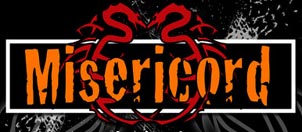 (Interview with Jason Giacoppo)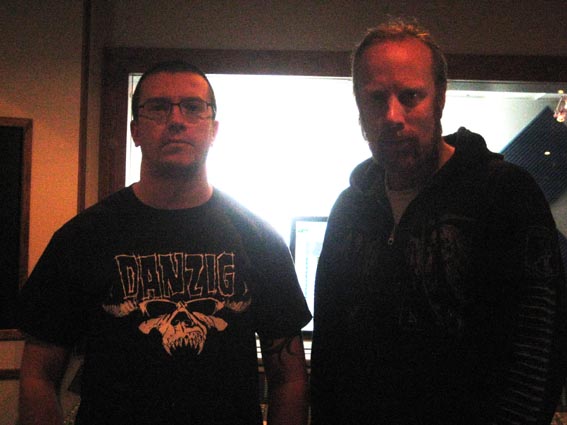 Jason Giacoppo & Tomas Lindberg
Tomas Lindberg:Vocals (At The Gates)
Jason Giacoppo:Guitar
Ralf Globish:Guitar
Nick Gibbs:Bass
Ralph Margo:Drums

Band Info:
Formed in Johannesburg,South Africa 1997.
Discography:
Another End (2006)

Style: Metal/Thrash/Groovy hardrock
Influences: Iron Maiden,Slayer,King Diamond
Website: coming soon
MySpace: http://www.myspace.com/misericord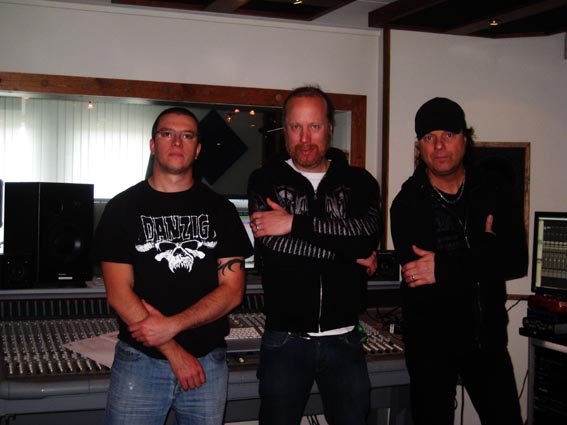 Jason,Tomas & Andy
The forthcoming album:
Album title: Here Lies Misericord (working title)

Tracks recorded & to be on the record: 9 (inc:1 acoustic instrumental)

Song writers: Jason Giacoppo & Ralf Globish (music) & Nick Cook (lyrics).

Time in studio:

Time in Sonic Train Studios: April 26-29th 2012.Vocal recordings. Mixing and mastering later in 2012.
Music recorded in B-Sharp Studios,Johannesburg 2009.

Produced by: Andy La Rocque
Mixed by: Andy La Rocque
Mastered by: Andy La Rocque

Record label: Will start looking for label once album is completed.
Artwork/Album cover: Not yet.We'll wait until we are sure about the album title.
Release date: End of 2012.
Video: Yes hopefully.If it's possible to make it happen then it would be great.


Q&A:
What's the story behind the band name Misericord?
It's from medieval times.The dagger used for fatal wounded warriors.Mercy killing to avoid the suffering and the misericord was used for an honorable death.

Tomas Lindberg from At The Gates is doing the vocals on the album.How did that happen??
We had all the music recorded and the lyrics written but we had no singer.
So while talking with Andy about maybe a Swedish singer or someone else that he might think would work.
Andy joined At The Gates on the song "Cold" last year on the Metal Town festival in Gothenburg and got back to me and said that he had talked to Tomas about Misericord
and that he was very interested in doing the album and I couldn't be more happy that he said yes :)
What are the lyrics about on the album?
Our original bassplayer Nick Cook wrote all the lyrics so I shouldn't really talk about them,I guess only he really knows ;)
Which song from the new album are you looking forward to play live the most?
It would be great to play live again sometime in the future if everything would work out for a festival or something like that.
I guess my favorite at the moment would be "The Restless Dead".
Any guests on the album?
No.

How come you picked the Sonic Train Studios for the vocal recording and to mix & master the album?
I found the Sonic Train Studios website awhile back and sent Andy a mail about the band and some music.And I got a positive reply.
It was only going to be mixing and mastering but when Tomas was on board it felt just perfect that he would record the vocals here as well.

What's your all time favorite albums?
King Diamond:Them & Iron Maiden:Somewhere In Time
What was the latest album you bought?
Mastodon:The Hunter
What is the best concert you've been to?
I think the most entertaining one was GWAR in Florida 1993.

What bands have you toured with?
Groinchurn and with The Haunted in South Africa in 2003.
What bands would you like to tour with?
King Diamond and At The Gates.

What are the plans for the rest of 2012?
Finish the album and have it released.Promotion and websites.
Misericord comments on:

Sonic Train Studios:
It's amazing.Feels like a home.Had such a great time here.
Andy La Rocque:
He's such a nice guy and such a pro.

Varberg:
Been out to dinner a few times and seen a little bit.But I guess it's gonna be a huge party tonight when we're going to the Mike Tramp,Kamchatka & Wild 'N' Wicked concert in town tonight :)

.....................................................
Andy Flash Report 28/4-2012