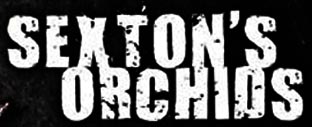 (Interview with Isaac & Luis)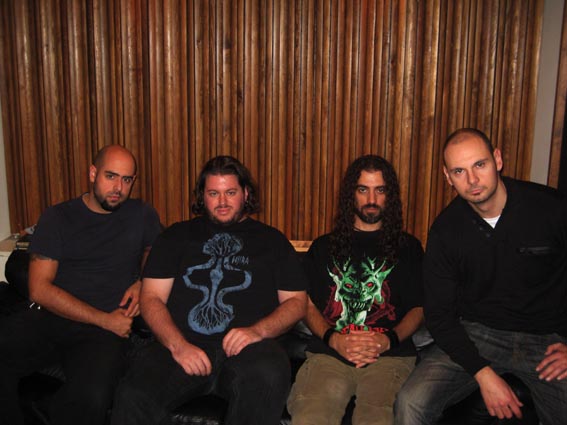 Isaac Rodriguez,Luis Rodriguez, Angel Lozano & Daniel Lara
Isaac Rodriguez:Vocals & Bass
Angel Lozano:Guitar
Daniel Lara:Guitar
Luis Rodriguez:Drums

Band Info:
Formed in Granada,Spain 2003.
Discography:
Trendkill (2011)

Style: Death Metal/Thrash
Influences: Ac/Dc,Mötley Crue,Death,Morbid Angel and everything good in between.Death is our biggest influence even though we are a more melodic band than they are.
Website: http://www.facebook.com/sextons.orchids (official website under constructionand coming soon)
MySpace: http://www.myspace.com/sextonsorchids

The forthcoming album:
Album title: Haven't picked one yet.We will try to come up with a title that fits the whole of the album so it may not be a song title.

Tracks recorded & to be on the record: 12 + 2 intros.

Song writers: Music:Daniel. Arr Music:Sexton's Orchids.Lyrics:Issac & Luis.

Time in studio:

Time in Sonic Train Studios: September 26th-October 17th 2012

Produced by: Andy La Rocque
Mixed by: Andy La Rocque
Mastered by: Andy La Rocque

Record label: Not yet.Start looking once the album is all done.
Artwork/Album cover: A couple of friends are working on different versions of the artwork.Digital and paintings.Maybe the title will come to us once the artwork is done.
Release date: Hopefully spring 2013.
Video: Yes we will make one or two later this year.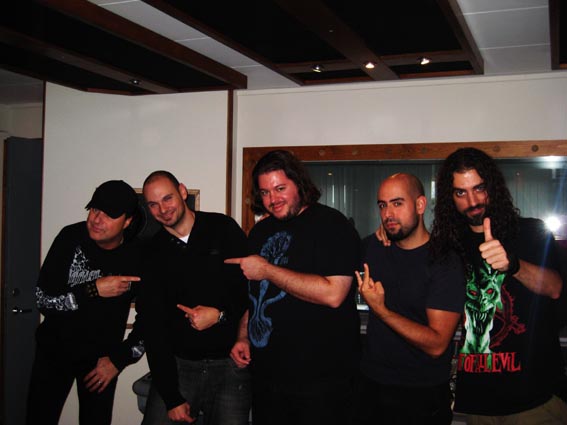 with Andy La Rocque

Q&A:
What's the story behind the band name Sexton's Orchids?
It comes from our old vocalist who had this crazy idea for a song about a guy who raped and killed girls.Sexton is a midevil word for undertaker.
Orchids are the contrast to the more horror of the name of Sexon and all that he did to those girls.

What are the lyrics about on the album?
Many things.It's not a concept album.Some are personal and some are real stories and some are made up stories.
Which song from the new album are you looking forward to play live the most?
"Walking Serpent Path".
Any guests on the album?
Stefan Karlsson guitar on "Walking Serpent Path" and Jimmy Hedlund (Falconer) guitar on "Sparks In The Water".

How come you picked the Sonic Train Studios to record the album?
We are all fans of Andy La Rocque and we have been for a long time.We have listened to the stuff that he have done and it was our only choice.

What's your all time favorite albums?
Issac: Death-Individual Thought Patterns
Luis: Death-Symbolic
What was the latest album you bought?
Issac: Emperor-Prometheus: The Discipline of Fire & Demise
Luis: Testament-Dark Roots Of Earth
What is the best concert you've been to?
Issac: Kreator,Granada 2004
Luis: Wacken 2003 specially In Flames & Testament.

What bands have you toured/played gigs with?
Piorno Rock Festival 2005 in Spain with UFO,After Forever,Samael. We toured last yeart with Italian thrash band Artemis (guitarist from Dragonlord).
Any plans to come and play in Sweden?
Hopefully to support our new album in Sweden with gigs as support or/and some festivals like maybe Sweden Rock Festival next year would be amazing.

What are the plans for the rest of 2012?
Video,Website,1 or 2 concerts and to find a record label.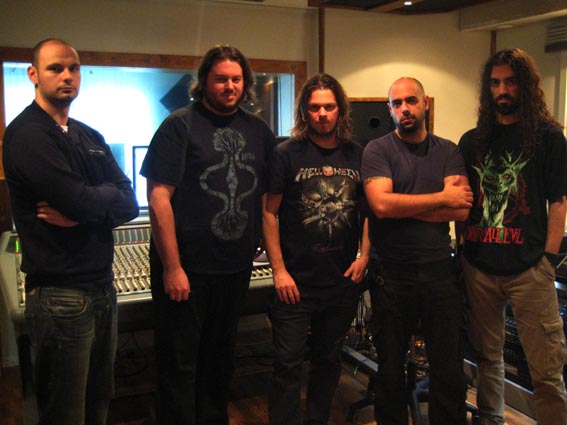 With Andy Flash
Sexton's Orchids comments on:

Sonic Train Studios:
We feel like home here.We've been treated like rock stars.Studio sounds great and to live here as well is perfect.
Andy La Rocque:
Super nice guy and very helpfull with everything. We came here because of him and we trust him eyes closed.Great teamplayer and makes us sound amazing.

Varberg:
Nice place even thou we're not here in the best season,but it's a beautiful place.And close to Gothenburg as well.Bonus for us was that we got to see W.A.S.P. gig in Varberg while we were here too:).

.....................................................
Andy Flash Report 15/10-2012