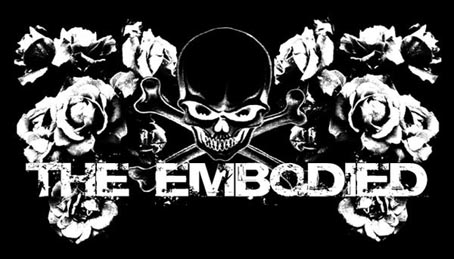 (Intervju med Jonathan,Marcus & Chris)

Sång: Marcus Thorell
Gitarr:Jonathan Mortensen
Gitarr:Chris Melin
Bas: Agust Ahlberg
Trummor: Axel Janossy

Band Info:
Bildades i Jönköping 2006.
Discography:
Relativity Fade (demo EP) (2006)
Chapter One (EP) (2009)


Stil: Metal

Influenser: In Flames,Pantera,Soilwork och annan bra metal.
Hemsida: http://www.the-embodied.com/
MySpace: http://www.myspace.com/theembodied

Album Info:

Album titel: The Embodied
Låtar inspelade: 9
På plattan: 9
Ifrån 2011 inspelningarna:Born From Shadows,Northern Lights,Deception,Sheading Skin,Heaven Burns Tonight
Ifrån 2009 inspelningarna"Chapter One":As I Speak,Flawless,Dead Man Walking,Light Up The Storm
Låtskrivare: Till största del Jonathan,Chris & Marcus. Arr The Embodied.

Tid i studio:

Inspelning: Februari 2011.

Mixning: Februari/Mars 2011.
Producerad av: Andy La Rocque & The Embodied
Mixad av: Andy La Rocque
Mastering av: Andy La Rocque
Skivbolag: Pure Legend Records
Artwork/Album omslag: Marcus Jarl. Under konstruktion.
Release datum:Sommar/Höst 2011
Video: Kan komma.
Q&A:

Vad har hänt sedan förra gången ni var i Sonic Train Studios 2009?
Skivkontrakt.2st mini turnér i Ungern och Rock Båten (Göteborg-Kiel).

Var för valdes The Embodied som albumtitel?
Passar bra till våran debut platta.
Vad handlar texterna om?
Born From Shadows:Döden-Liemannen.
Northern Lights:Krig och den svenska basen i Afganistan heter Northern Lights.
Deception:Psykiskt inre kaos.
Sheading Skin:Om någon som mår dåligt och vill byta skepnad.
Heaven Burns Tonight:Fiction om någon som vill sätta eld på himmlen.

Hur fungerar låtskrivar processen i The Embodied?
Flesta kommer ifrån hemma arbete och sedan tas det till replokalen för färdigställning.Texterna kommer oftast efter det.

Om ni valt att göra en cover till plattan (Japan bonus mm). Vilken hade ni valt?
Finns inga planer på att varken lira in eller spela någon cover live.Just nu iallafall.Men kanske typ någon Johnny Cash låt att göra metal av?

Vilken av de nya låtarna ser ni framemot mest att lira live?
Born From Shadows. Mycket stark refräng som kommer att funka bra live.

Några gäster på plattan?
Andy La Roqcue-Heaven Burns Tonight (gitarrsolo)

Vilket är Sveriges bästa band genom tiderna?
Marcus Thorell-Refused
Jonathan Mortensen- Emtombed
Chris Melin-Soilwork

Vilken är världens platta?
Marcus Thorell-Mötley Crüe:Dr. Feelgood
Jonathan Mortensen- Black Sabbath:Sabbath Bloody Sabbath
Chris Melin-Iron Maiden:The Number Of The Beast

Favorit:
Marcus Thorell-SÅNGARE:Daniel Heiman (Lost Horizon)
Jonathan Mortensen-GITARRIST:Steve Morse (Kansas,Deep Purple)
Chris Melin-GITARRIST: Randy Rhoads (Ozzy Osbourne,Quiet Riot)

Något önskeband att vara förband till?
Ett stort svenskt metal band,typ Soilwork,Dream Evil eller In Flames.

Sweden Rock Festival,Wacken eller förband till Iron Maiden på Ullevi 2011?
Förband till Iron Maiden på Ullevi 2011!

Vad är planerna för 2011 för The Embodied?
Promotion och gigs. Ett gig inbokat så här långt-Gränna den 6:e Maj mm.Kan bli ner till Ungern igen och lira mer.

The Embodied kommentarer:
Sonic Train Studios:
Mer avspänt och hemma denna gången nu när vi lärt känna Andy mer och han oss.Bra dialog.

Andy La Rocque:
En i gänget.Funkar kanon och vi kommer tillbaka när det är dax för mer inspelning.
Varberg:
Trivs bra här.Har varit på Harry's,Cheers N Beers,Hajen och McDonalds mm :)
Andy Flash Report 25/2-2011