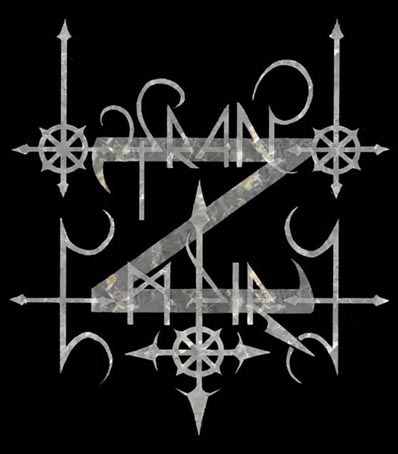 (Interview with V,Soran & Arguz)
Vocals:Soran
Guitar: V
Guitar & Bass: Arguz

Session member:
Drums: Fjildslach (Lugubre/Salacious Gods)

Band Info:
Formed in Amsterdam, Holland 1999.
Discography:
Derelict (2004) (demo cd)(limited 300 copies)

Style: Monolithian Cosmic Black Metal
Influences: Black metal bands
Website: http://www.angelfire.com/wy/frysk
MySpace: http://www.myspace.com/tyrantzempire


The forthcoming album:
Album title: Merauderz Of The Monolith - The Omega Chapter

Tracks recorded & to be on the record: 12
1.Under The Chaos Banner
2.M.O.B.K
3.Merauderz of The Monolith
4.Black, Thrash and Beyond
5.Derelict Tyrant Metal
6.Battlesphere Monolith
7.Ancient Tyrantz
8.Galactic Fear Rising
9.Fatal Cosmia Insomnia
10.Starblazed Dagger
11.Rock & Roll Satan
12.Black Bootz Anal Screamer(Hommage to Nattefrost)


Song writers: Soran,V & Arguz

Time in studio:

Time in Sonic Train Studios: August 31th-September 8th 2009. Drums recorded in Holland (12hrs).

Produced, Mixed & Mastered by: Andy La Rocque

Record label: Unsigned at the moment.
Artwork/Album cover: It's in process right now.It's gonna be a very simple cover. Just the logo and the letters M.O.T.M. in red crimson metallic.
We wanted a simple cover and let the music speak for itself.

Release date: A.S.A.P.

Video: We already have ideas for a video but it's not gonna be out of this album.
It will from the Derelict album and a song called The Monolith Spell.It's based on a satanic ritual I did when I was young.
There will be a re-recording/re-release of the Derelict album with a couple of bonus tracks as well.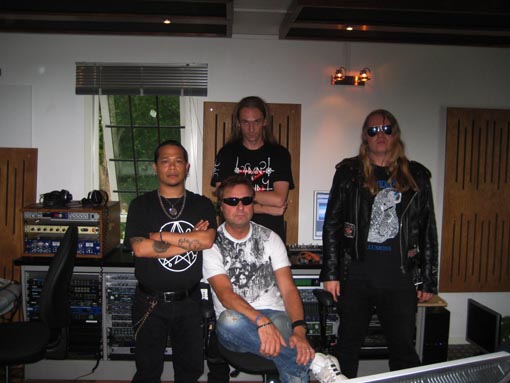 Soran,Andy La Rocque,V& Arguz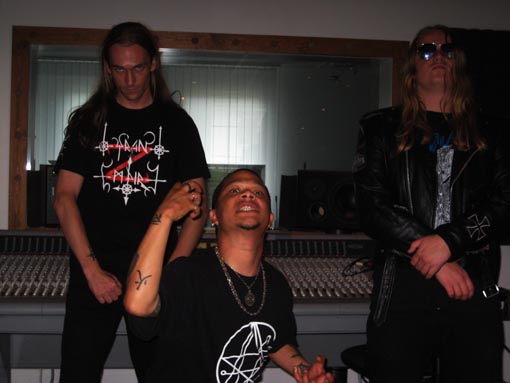 V,Soran & Arguz

Q&A:
What's the story behind the band name Tyrantz Empire?
Soran:The name comes from me cause I see myself as a tyrant sometimes.
It can be both a positive and a negative thing but I don't believe in democracy anymore.If you see something that you want you should just go for it.

What are the lyrics about on the album?
Half of it is about satan and half is about cosmic conscience. Cosmic conscience is always our concept. As well as madness,drugs and travels through our inner and outer cosmos.
And aspecially the dark regions of the mind.
M.O.B.K. is about girlsfriends that cheat on you and are unloyal. And wants to change you.It's a about sacrificing your girlfriends to the gods and eating her flesh.

Which song from the new album are you looking forward to play live the most?
V:Battlesphere Monolith
Soran: Galactic Fear Rising
Arguz: M.O.B.K
And of course the title track which speaks for itself.
Any guests on the album?
No.

How come you picked the Sonic Train Studios to record the album?
The former bassplayer of Melechesh told us that we should go here instead of doing it in Holland.
Alot people in Holland wondered why we were going to record in Sweden and spend alot of money but we'd rather have one good album than 2 shitty albums.
How is the black metal scene in Holland?
Almost zero,especially in Amsterdam.Sure Melechesh lives there but that's about it. So we say we are the Dutch black metal scene.
We do get many bands to play here but not Dutch ones.We have great concert halls near by.

What are your favorite bands?
Emperor,Celtic Frost,Immortal,Melechesh, Absu, Darkthrone,Venom,Sodom and Deathwitch.

What bands have you toured with?
We still have not played live.That was a decsion we made and said that we weren't ready yet but now we are.
And one thing I can tell you is that all that you hear on this album-we can do live!
We have alot of cool ideas for our live shows as well.Including black light and naked women.
We want to scare the shit of out people and make them remember our show.
And what bands would you like to tour with?
Watain. If there's one band that deserves alot of credit in Sweden it's Watain.

Any plans to come and play in Sweden?
Of course if we get invited that would be great. There's alot of festivals and bands in Sweden and then there is the girls...
We look forward playing in Sweden.Check us out and check out our my space site for music and updates.

What is the best moment in this band so far?
Everthing. The beginning was great but this week with living and recording in the studio have been amazing and so great for the band.
What can we expect from Tyrantz Empire in the future?
The weapon is forged.We are creative,dedicated and with a great label backing us there will be lots of albums and live shows.
We wanna keep some surprizes but we can say that the next album will have a number code as a the title.
You should see us as the Rocky of black metal..We're gonna fight our way up.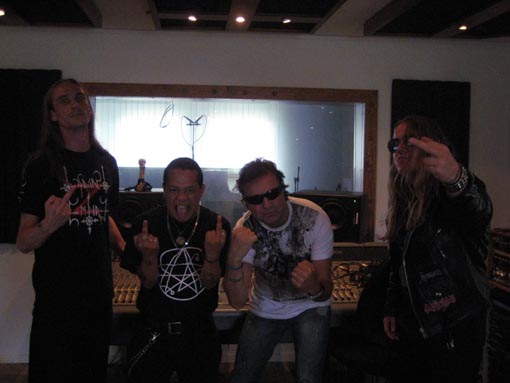 V,Soran,Andy La Rocque & Arguz
Tyrantz Empire comments on:

Sonic Train Studios:
We love it,no complaints what so ever.As we feel we will do our next 2 albums here as well.
Andy is a very relaxed,calm and helpfull and that helped us alot because we only had a week in the studio.

Andy Flash Report 7/9-2009