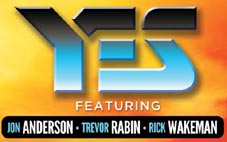 Jon Anderson:Vocals & Acoustic Guitar
Trevor Rabin:Guitar
Iain Hornal:Bass
Rick Wakeman:Keyboards
Lou Molino III:Drums
THE SETLIST:("Quintessential Yes: The 50th Anniversary Tour" Tour)
1. INTRO:
2. CINEMA (yes)
3. HOLD ON (yes)
4. SOUTH SIDE OF THE SKY (yes)
5. I'VE SEEN ALL GOOD PEOPLE (yes)
6. CHANGES (yes)
7. AND YOU AND I (yes)
8. RHYTHM OF LOVE (yes)
9. HEART OF THE SUNRSIE (yes)
10. OWNER OF A LONELY HEART (yes)
11. SUNSHINE OF YOUR LOVE (cream)
12. PERPETUAL CHANGE (yes)
13. ROUNDABOUT (yes)
Date:June 9th 2018
Place:Norje´
City:Sölvesborg
Country:Sweden
Comments:SWEDEN ROCK FESTIVAL.